Most modalities include information in the DICOM metadata that allows UltraLinq to determine which users belong to an exam.  UltraLinq can reconcile the information coming from the modality, and choose which users are appropriate.
The mechanism by which UltraLinq creates these relationships is called "Codes".  
Codes are found in several places:
Users
Groups
Locations
Exam Types (also known as "Aliases")
If a Code within UltraLinq matches the content of the DICOM metadata, an automated assignment occurs.  Automated assignment typically occur based on the values in the following DICOM fields:
0008,0080 - InstitutionName
0008,0090 - ReferringPhysicianName
0008,1030 - StudyDescription
0008,1050 - PerformingPhysicianName
0008,1070 - OperatorsName
Other values may be used, but will require mapping.  Please contact UltraLinq Client Services for assistance.
Whether or not you use this functionality is predicated by your workflow.  If you do not enter information into the modality (like the name of the referring physician), that information will never arrive in UltraLinq.  That said, Codes are often required values when adding Users or Groups.  If your workflow involves making manual assignments, and no automated assignments occur, than the value you enter into the Code field may be arbitrary.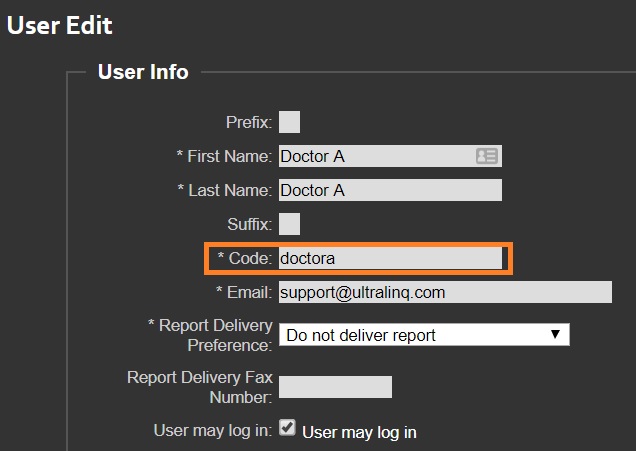 Finally, unless you view the DICOM metadata you may not know what information your modalities export.  If you wish to have a copy of the DICOM metadata, please contact UltraLinq Client Services.